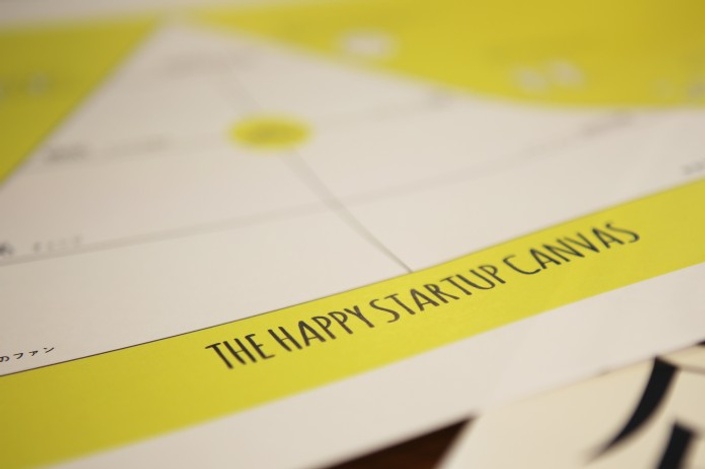 The Happy Startup Canvas course
Stop dreaming start doing
JOIN THOUSANDS OF OTHERS BY TAKING OUR DREAMING TO DOING ONLINE COURSE
We're told 9 out of 10 startups fail. By learning how to use this simple tool you'll be more confident in what you're doing (and why), clearer on what to focus on right now and avoid being just another statistic.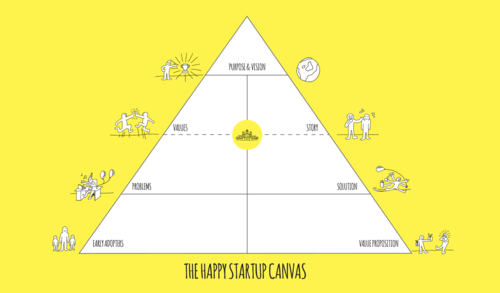 Before setting up The Happy Startup School, we ran a startup studio, helping many tech entrepreneurs bring their startup ideas to life. Those few years were our apprenticeship in startups – learning from others mistakes, as well as our own. We worked with various tools and techniques but felt that too many of these, and the startup world in general, focused solely on the mechanics of starting a business.
We felt that it was time we made our businesses more human and in the process gave them a better chance of survival.
We could see that the world was changing, the Purpose Economy was a comin'. And the existing tools weren't fit for purpose.
---
"More of the economy needs to move further up Maslow's pyramid" Alain De Botton
---
The lean canvas or business model canvas work just fine if you want to build a product, but if you want to build a community it falls down. Why do communities matter? Then ask yourself:
"What are loyal customers other than a community of people that trust you and your judgement?"
This is where our canvas comes in – it helps you to tap into the growing trends that will ultimately affect how your business operates and start to bake happiness into your DNA:
Customers care more about who they're buying from – they're becoming more interested in the story than the price tag
Employees care more about who they're working for – they want to feel like they're contributing to something worthwhile
Founders care more about the impact they're making – there's a growing breed of entrepreneur that wants to make money and do good. And if you've got this far, we're guessing you're one of them.
The canvas is meant to be a starting point for creating the DNA of your organisation. It will get you on the road to becoming a happy startup and allow you to live a more purposeful life and build a more impactful business.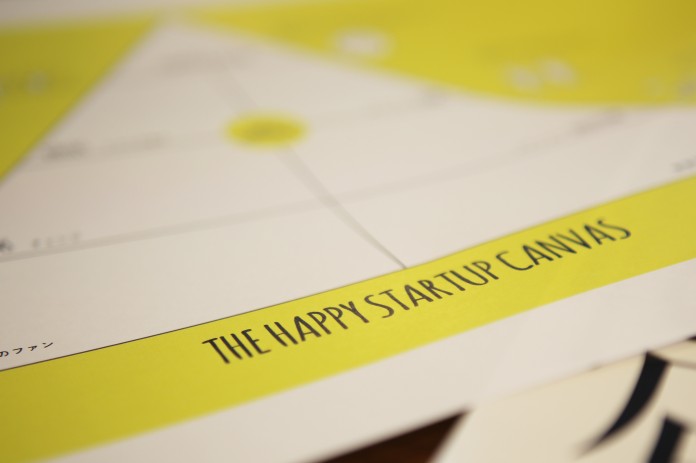 We developed it almost 7 years ago and since then it's been used in workshops and accelerators all over the world, translated into multiple languages and helped thousands bring their startup ideas to life. And it's been one of the key factors in us building our community of 100k founders and movement makers.
But while it's a simple tool, it takes a bit of work to know how to use it. Luckily help is at hand…
the path to entrepreneurial happiness
We launched this course as we're keen to spread our blend of happiness and entrepreneurship far and wide. While we designed the canvas to be a simple tool we felt this course would help people get the most out of it.
We have had thousands join us on this journey, many of whom have shared their inspiring stories – such as Quin and her sister Karma who have a bold and beautiful vision to help the women weavers of Bhutan.
By taking this e-course you'll learn how to use the canvas for maximum impact.
Here's a breakdown of the course:
Introduction: Including a short video on the canvas from Carlos & Laurence, founders of The Happy Startup School
Purpose: Be clear about your why
Vision: Share your vision for change
Values: Tell the world what you stand for
Story: Know your story
Problems: Solve a pain point
Solution: Make something people actually want
Early adopters: Find people that care
Value proposition: Make their lives meaningfully better
What's next: Taking forward your idea
Each lesson will provide guidance on how to complete that part of the canvas including some clear examples. We'll also set you a challenge to get you thinking more deeply about your idea.
Best of luck
Let us know how you get on and share the love. Tell your friends and followers about this.
We ♥ you guys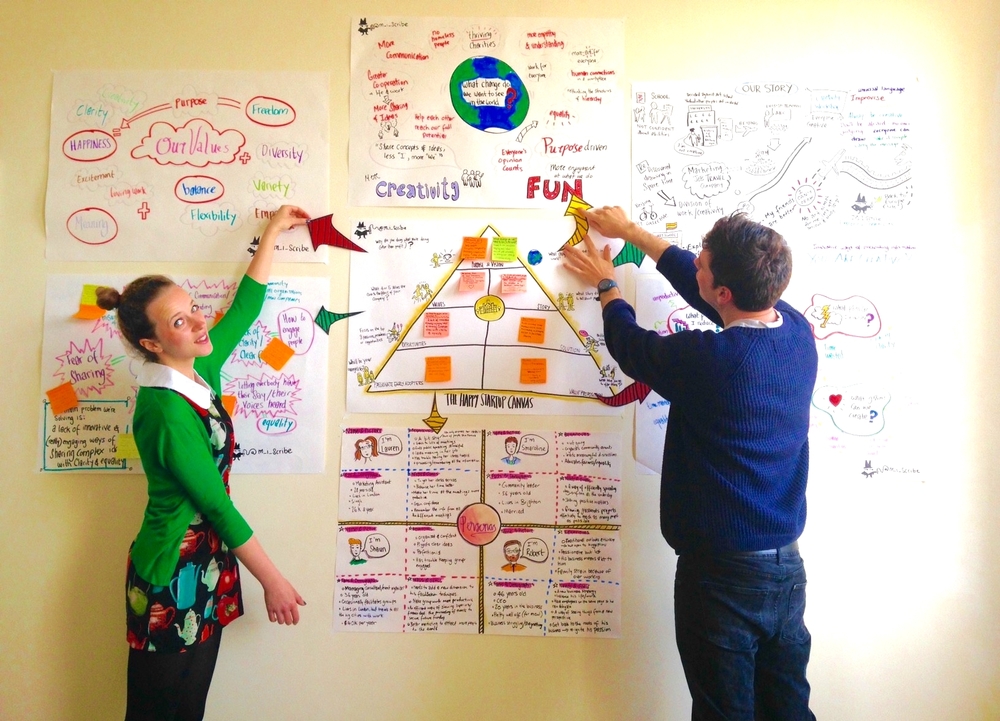 "The Happy Canvas course helped us to take a step back and evaluate our underlying core beliefs and set out a foundation based on values. I think that was the hardest part - to try and distance ourselves from what we were doing already, and focus on the why.
The course made us question ourselves, our motives and see new perspectives, in a supportive community of fellow dreamers. We found that once we had explored our core values, things began to flow more easily."
- Marcus & Ieva, MI Scribe
Read more about their story here.
Your Instructors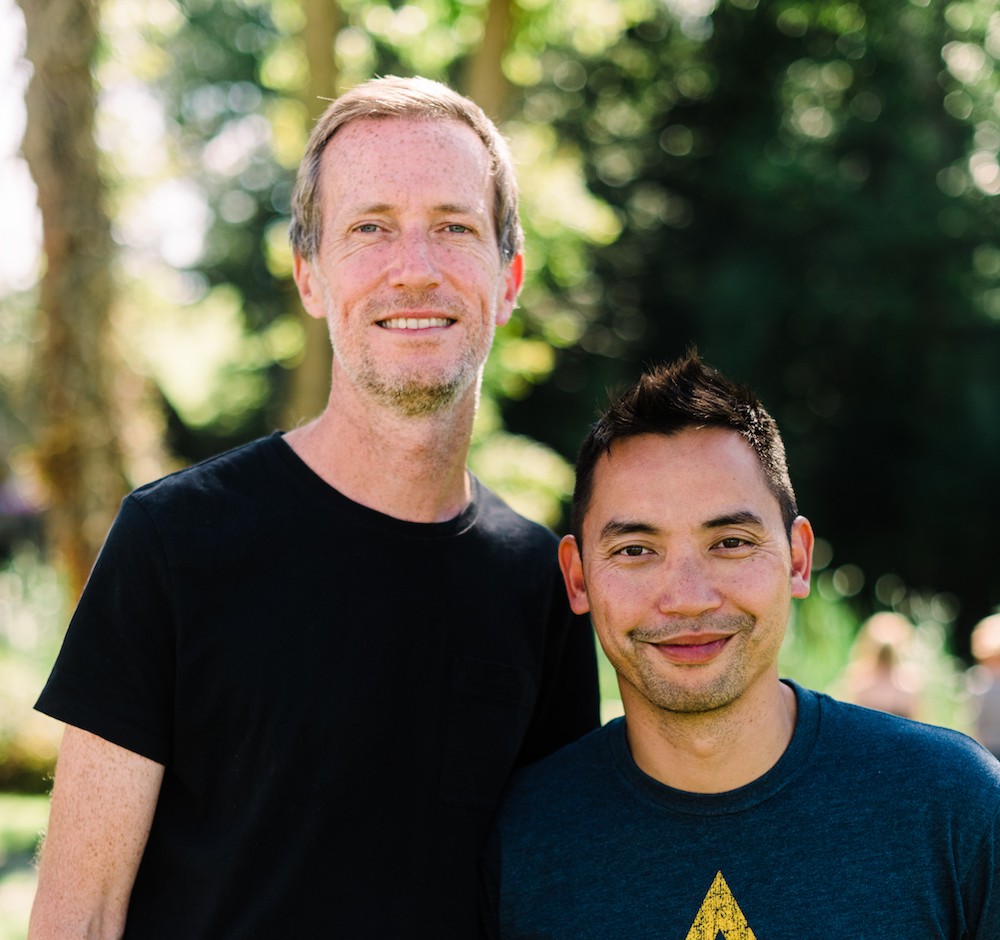 We're accidental business owner who drifted into entrepreneurship without any qualifications or permission to do so. We never went to business school and we never had any training in finances and management. However, we developed a set of skills that were in demand and we ended up getting more work than we could handle. That meant we needed to employ people to help us do the work.
Business started out as effortless and a joy but as our headcount grew it became more stressful and challenging. That's because we never really had a vision for the business (and our places in it).
We wish we'd had a program like this to help us get clear about the kind of business we wanted to create and the real value of the work we did. We'd have avoided years of fumbling around and would have spent more time and energy on the things that really mattered.
This course is a way to share the knowledge and experience that we've accumulated over the past 15 years working with hundreds of entrepreneurs. It's the business education that we wished we'd had. One that excites and inspires while creating focus and clarity.
We want to help you build a business that isn't just financially sustainable but also one that feeds your soul. Our mission is to help you and other creative entrepreneurs make money, do good and be happy.
Frequently Asked Questions
When does the course start and finish?
The course starts now and never ends! It is a completely self-paced online course - you decide when you start and when you finish.
How long do I have access to the course?
You have lifetime access to the course materials.
Is this course just for online businesses?
Not at all. This course will help you find clarity and take the next step no matter what your idea is. Whether it's a shop, service or product, this will give you that clear path to getting your startup off the ground.
I don't have a clear idea to work with. Is that a problem?
No. The course will provide you with a framework to develop new ideas again and again.
What's your refund policy?
Once you've completed the course we also offer a 100% study guarantee. This means if you haven't met the learning goals we set out for you we'll personally create the resources necessary for you to achieve them.